Spain is currently the country in the world with the most real estate properties available for payment with (BTC) and cryptocurrencies, with almost 300 around the entire territory of the Iberian nation.
According to the data from the Forex Suggest analysis firm, which were taken from the Crypto Real Estate website, Spain leads the ranking of nations with the most properties ready to be purchased with virtual currencies. So far, are some 289 properties available.
In addition to Spain, there are other Spanish-speaking countries also featured in the Forex Suggest ranking. Mexico, in North America, is ranked number 7 on the list, with some 89 properties that can be purchased with cryptocurrencies.
El Salvador, the first country in the world to make bitcoin legal tender, is also on the list. This Central American nation ranks tenth on the list, with 39 properties ready to be purchased with cryptocurrencies.
Lastly, Panama, which is in 18th place and has a total of 7 real estate properties that can be acquired with digital assets.
Other countries in the world also stand out on the list. To name a few, they include Thailand (with 227 properties), Portugal (with 130), the United States (80), the United Kingdom (66), Japan (37), Canada (18) and the Netherlands (14).
The nation that holds the last place on the list is Italy, where currently there are 6 homes that can be purchased with BTC or other cryptocurrencies.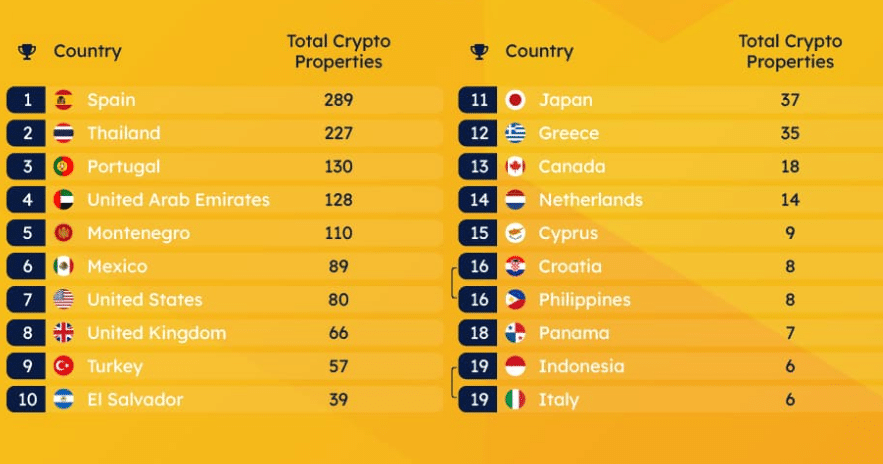 Countries with the most expensive real estate
Forex Suggest has determined in its report the countries where to buy real estate with cryptocurrencies is highly costly. Canada, in North America, tops this list. In that nation, a house can cost 250 bitcoins.or about USD 5 million at the current exchange rate.
The United States also stands out on this list. There, it takes an average of 112 BTC (USD 2.5 million) to buy a home. It is followed by the United Arab Emirates, where 96 BTC (USD 2.1 million) are required. to purchase real estate.
Spain, which has the most available housing, does not escape from this list. In the Iberian country, it takes an average of 75 bitcoins, or about USD 1.7 million, for to acquire a home.
The same is true in Panama, where 53 bitcoins or USD 1.2 million are needed to afford a real estate property.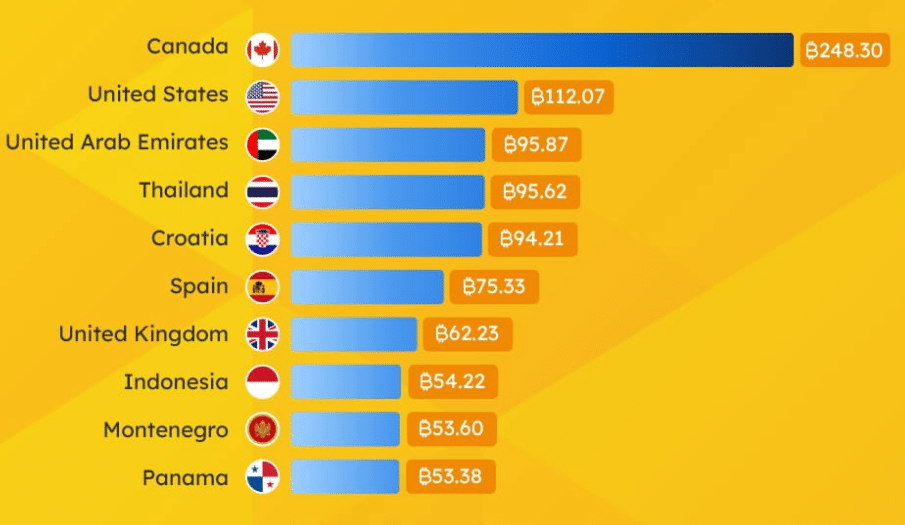 The cheapest
Forex Suggest also listed the countries where it is cheaper to buy a house with cryptocurrencies. The Philippines, in Asia, tops this list. A little more than 15 BTC (USD 350 thousand) is required. to acquire real estate.
Mexico is next, where it is possible to buy an apartment, villa or house with 23 bitcoins or USD 540 thousand. Then there is the Netherlands, where 26 BTC (USD 600 thousand) are needed.
Last is El Salvador. There, the following are required 39 BTC (USD 900 thousand) to acquire a real estate property.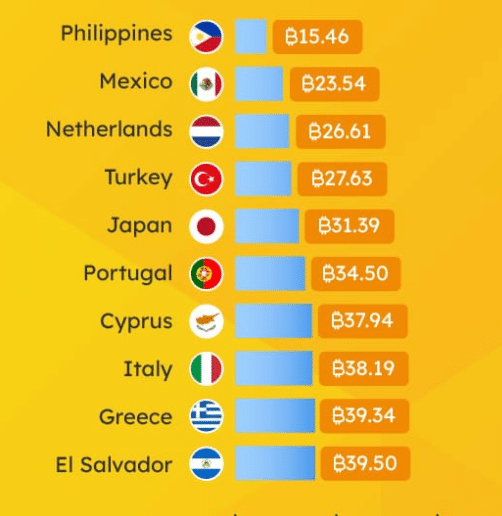 The purchase of homes with cryptocurrencies has a long history
While it is true that there are countries where there are now more properties available for purchase with cryptocurrencies, the truth is that this type of negotiation has been going on for some time now..
In fact, in Spain there has existed since 2019 a service for buying and selling real estate with bitcoin through which. offer legal assistance for real estate purchase negotiations using cryptoassets.
*Source Cryptonews